What is it like to be musical and deaf?
Nanette Florian, formerly a lead singer for the
famous 60's band THE NEW CHRISTY
MINSTRELS lost her hearing completely
at age 40. 
SHE now hears through a cochlear implant.
  While being grateful to be able to hear the
spoken
word again through the
processor,   MUSIC is very
difficult to hear.  
Here you can read her story
and listen
to the music she writes
and produces.
As a musician, it was easier for ME to find music again.  Others like me are hungry for music but can't figure out how to get back.   For me, it started in my mind.  I can hear the music in my mind.

 I've pushed to do "whatever" I can come up with, whatever inner resources I still have to accomplish something that still emulates the musician in me.

What I REALLY used to do was sing.  You can't sing when you're deaf.  It's the same thing as a person who was born deaf and speaks without total control.  Now I moo (LOL)   The sound goes out of your mouth and into your ears and if you have no ears (the cochlear processor doesn't process melodies) you moo!

So, no more singing, but I ALWAYS wanted to write music and found that I CAN. I can still play the piano, and have taken up the bass again.  

Beethoven wrote his most beloved songs AFTER he lost his hearing.

Thank you for coming to my website and listening to my story.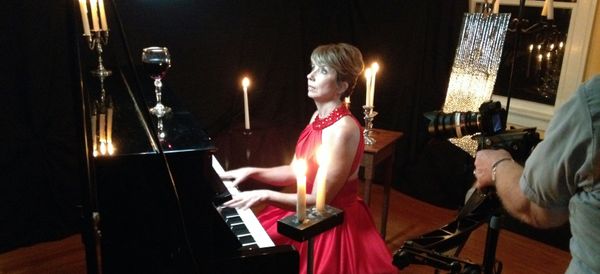 Beethoven And Me
Music & Lyrics by Nanette Florian

Vocals by Wendy Drown
Produced by Paul Lombardo, Bill Holloman, and Tom Russo

Lyrics

All the music is hidden inside
All the glory has gone with the pride
Never dreamed we'd share a life

A song is trapped within our minds
Eager to be free like it used to be
The music inside we hear it just fine
We're always at war fighting to do more
If you could just see we're in perfect key
Beethoven and Me
Beethoven and Me

From the painting you're looking below
I played your songs while you watched me grow
Just like you the sound would go

A song is trapped within our minds
Eager to be free like it used to be
The music inside we hear it just fine
We're always at war fighting to do more
If you could just see we're in perfect key
Beethoven and Me
Beethoven and Me

Tears are bitter, tears have heat
All the songs I sang were sweet
Now they're only lost and weak

A song is trapped within our minds
Eager to be free like it used to be
The music inside we hear it just fine
We're always at war fighting to do more
If you could just see we're in perfect key
Beethoven and Me
Beethoven and Me

The music inside we hear it just fine
The music inside we hear it just fine

Beethoven and Me